This issue of The Story Garden is dedicated to our friend Glenn Osborn.
Glenn, whose art graces these pages—but if it didn't, it still would. Because the workshop where these stories were birthed—not conceived, maybe, but brought forth—well, if you could see behind the drywall (and perhaps the neon beer signs, or the old framed maps) you'd see the work of Glenn the carpenter in these beams: he built this place.



If you read a straight bio of Glenn's work, you'd read that his short stories have been published in a variety of places like Melic Review, Writer Online, Toledo City Paper, and InkPot Review. You might also come across reference to the galleries and books in which his art has appeared, or awards he's won with it.
What you wouldn't get to read - what we've been blessed with over the years - is the man himself. Glenn as a father, a lover, a friend, an observer of life as well as a participant—or as a philosopher and wanderer, amidst spectacular gardens of flowers and equally spectacular stacks of books and music. You might not even read of Glenn the poet:
Then I am floating and shoot out across the river,
self-propelled. The crows fly after me, no longer
laughing. They're taking me seriously now. I fly
over the city and the traffic stops. People get out
of their cars and point at me but I can't hear them.
I don't want to hear them. I close my eyes and feel
the cool night slip beneath me, feel one life ending
and another life beginning, but it's not my life, it's
yours, and my green madness is the afterbirth.

—from "Requiem" by Glenn Osborn © 2002
Glenn is our resident curmudgeon, when he chooses to be. The curmudgeon of myth, you know - the one with the heart of gold just under the veneer of irascibility. But there's more—yet another layer of curmudgeon, and another layer of heart—and there, there's the eye of the artist, and the soul of the poet. He curmudges, because he likes to, and because we expect it.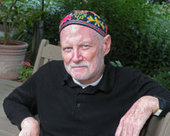 Here you have him: writer, artist, man. As we have had him for all these years, although he thinks he belongs to gardens and galleries and the wider world, we know better. He is all ours. And in that deep affection, built into these beams and rafters and illustrated with Glenn's poems and stories and collages, we offer Glenn our love, and share him with you.
—Kathleen McCall