T H I N G S N E V E R F O U N D
I N T H E D U S T
by Mark Kneeland

lmost the 4th of July,
I carried our belongings
Into the old farmhouse,
Our new home.
Summer stickiness
Made my skin and t-shirt one.
Looking at walls, windows and floors,
To be repainted, repaired and ripped out,
I saw the sweat of the future.

Our new neighbors appeared
At our sagging front doorway
With welcomes, chocolate chip cookies, zucchini bread
And a fact they whispered with embarrassment:
"The realtor probably didn't mention it,
But we thought you should know,
There's a dead horse buried behind your barn."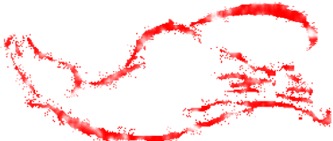 Better, I thought, than a live one.

"It was put there," they said,
"By the folk before you. Nice folk and
It was a nice horse. Their little girl cried.
Poor animal died because its stomach
Was full of wood chips from gnawing
On the barn's hand cut siding."
My new neighbor shuffled his feet in a small dance.
Hands in his pockets, straightening his back,
"It's buried forty feet from my well," he said.

Hell, I thought, he wants me to dig it up.

Through the years, I told my daughters
On no moon and full moon nights,
I've heard ghostly hoofs clomping about the barn.
Awed at first,
They grew annoyed, older and disgusted.
Yet when they visit now,
They pass on the spirit horse story
To their growing children.

My wife planted an herb garden
Behind the barn,
Perhaps right over the horse's burial plot.
Plants smelling of a kitchen,
Plants with edible fingernail size blossoms;
Fine funeral flowers for the old nag.

On summer nights soaked with heat,
My now, old neighbor and I sit on the porch with drinks,
And talk of projects to be done.
On occasion, we discuss unearthing the old horse.
I say I'd like to take that root white skull
And nail it atop my mail box,
To create my own Georgia O'Keefe sculpture.
My neighbor says, "Too late for digging now--
The family and I have gotten accustomed
To the urge to graze on field grass."

Copyright © 2000 Mark Kneeland